Water Services
Repairs and Replacement
Your water service is defined as the pipe that runs from a potable water source (usually a municipal water source, or a private well) to your house. Because it's buried in the ground, we expect your water service to give you many years, if not decades, of trouble-free existance. Unfortunately, because it's buried in the ground, you may not have much warning when it fails. Sometimes the old pipe rots away or is broken by a swelling tree root. Other times it's just bad luck, when somebody digs a hole or installs a fence post in the wrong spot–Oops!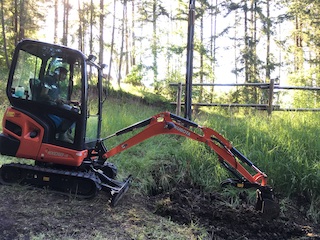 The traditional method of repairing a water service is to 1) locate the leak, 2) dig it up (often by hand), and 3) repair the leak. If the pipe appears to be in bad condition, we may recommend replacing the entire length of pipe, from the street to your house. That can be time-consuming and difficult, depending on the landscaping and structures in the way.
These days, in many situations we won't have to dig up your yard. (Although we can if we have to!) We have access to pipe boring equipment and the experts who know how to use it. We can often replace a pipe by boring underneath expensive landscaping, driveways and sidewalks. If you'd like to see if trenchless pipe replacement would work for you, one of our expert plumbers would be happy to discuss it with you. Give us a call at 541-343-9339 today!
---
Water Service articles by Petersen Plumbing
Helpful Links