Cover Your Outside Faucets!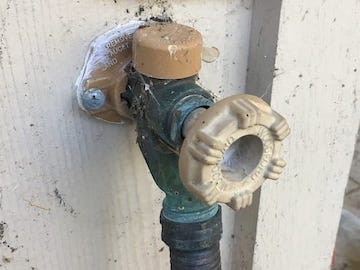 As I'm writing this, the National Weather Service has just issued a freeze warning for the southern Willamette Valley, including Eugene, Springfield, Junction City and the surrounding areas. It's a nice afternoon, sunny, fairly warm, at least it's pleasant as I scramble to get my garden and pipes ready for the weather.
First step, of course, is to check all of the garden hoses. If you have a sprinkler system that can be drained, do so. Follow the installer's instructions to weatherize the system.
Many of us have outside faucets that cannot be drained. They need to be protected as well. Make sure all of the hoses are removed from the faucets. If you don't think you'll use them again this year, you can drain the hoses and put them into storage for the winter. (Oops - I'll be right back! I think I forgot to check one faucet!)
Wow, good thing I remembered to check! That particular faucet is out in the wind and it would have frozen tonight!
Anyway, we like to use these inexpensive styrofoam faucet covers for our faucets (available online or at any home and garden store). These come in many different styles and price ranges, when I checked online this afternoon it looked like prices start at around $3.00/ea. They're pretty cheap, amd they should last for several years. (As you can tell, mine looks a bit worse for wear! I've probably been using it for 10 years, maybe a bit more. One of these days I'll replace it, but it'll be fine this winter.)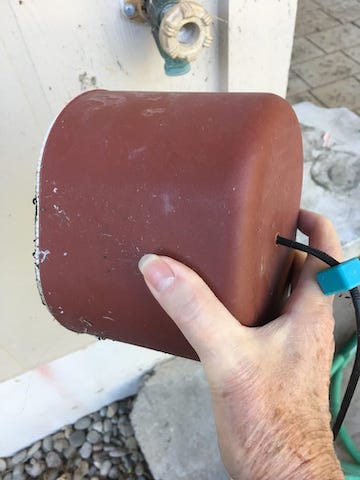 There's a rubber string that goes thru the middle of the cover. Use the hole on the end of the string to hook over the faucet, pull the cover tight against the wall, and use the keeper to hold it tight.
There, that faucet should be good for any weather Oregon will throw at us this winter! Of course, there are no guarantees. If it gets cold enough, water will freeze, it's simple physics! But a few years ago, we got through the sub-zero temperatures nicely, using these techniques.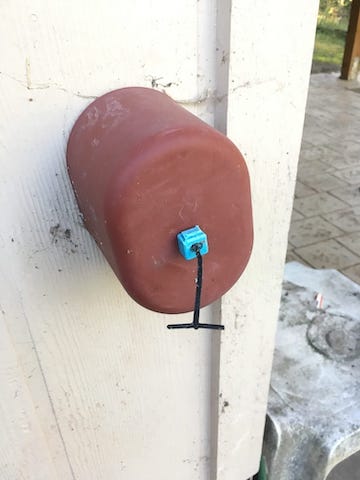 If your pipes do freeze or break this winter, just give us a call at 541-343-9339. We'll be glad to help you out!
---
More Winter Tips from Petersen Plumbing